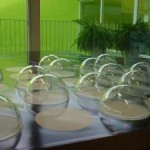 Notes
1. Goods put up in sets consisting of two or more separate constituents, some or all of which fall in this section and are intended to be
mixed together to obtain a product of section VI or VII, are to be classified in the heading appropriate to that product, provided that the
constituents are:
(a) Having regard to the manner in which they are put up, clearly identifiable as being intended to be used together without first being
repacked;
(b) Entered together; and
(c) Identifiable, whether by their nature or by the relative proportions in which they are present, as being complementary one to
another.
2. Except for the goods of heading 3918 or 3919, plastics, rubber and articles thereof, printed with motifs, characters or pictorial
representations, which are not merely incidental to the primary use of the goods, fall in chapter 49.
39 PLASTICS & ARTICLES THEREOF
3901 polymers of ethylene, in primary forms
3902 polymers of propylene or other olefins, prim forms
3903 polymers of styrene, in primary forms
3904 polymers of vinyl chloride etc., in primary forms
3905 polymers of vinyl acetate & other vinyl polym, pr fm
3906 acrylic polymers in primary forms
3907 polyethers, expoxides & polyesters, primary forms
3908 polyamides in primary forms
3909 amino resins, phenolics & polyurethanes, prim form
3910 silicones, in primary forms
3911 petro resins, polysulfides etc nesoi, primary form
3912 cellulose and chemical deriv nesoi, primary forms
3913 natural (inc modified) polymers nesoi, primary forms
3914 ion-exchangers based on plastics, in primary forms
3915 waste, parings and scrap, of plastics
3916 monofil, cr-sect ovimm, rods, sticks etc, plastics
3917 tubes, pipes & hoses & their fittings, of plastics
3918 floor cover (rolls & tiles) & wall cover, plastics
3919 self-adhesive plates, sheets, film etc of plastics
3920 plates, sheets, film etc no ad, non-cel etc, plast
3921 plates, sheets, film, foil & strip nesoi, plastics
3922 baths, washbasins, lavatory seats etc of plastics
3923 containers (boxes, bags etc), closurers etc, plast
3924 tableware & other household articles etc, plastics
3925 builders' ware of plastics, nesoi
3926 articles of plastics (inc polymers & resins) nesoi
40 RUBBERS & ARTICLES THEREOF
4001 natural rubber, balata, gutta-percha, guayule, chicle and similar natural gums, in primary forms or in plates, sheets or strip
4002 synthetic rubber & factice in primary forms etc.; mixtures of natural rubber or gums with synthetic rubber or factice, in primary forms etc.
4003 reclaim rubber in primary forms/plates, sheets/strip
4004 waste, parings and scrap of rubber (other than hard rubber) and powders and granules obtain thereform
4005 compounded rubber, unvulcanised, primary forms etc
4006 unvulc rubber forms nesoi & unvulc rubber articles
4007 vulcanized rubber thread and cord
4008 plates, sheets, profile shapes etc, soft vulc rubber
4009 tubes, pipes & hoses of unhard vulcanized rubber
4010 conveyor or transmiss belts of vulcanized rubber
4011 new pneumatic tires, of rubber
4012 retread or used pneu tires, solid tires etc, rubber
4013 inner tubes for tires, of rubber
4014 hygienic or pharm articles of unhard vulcan rubber
4015 art of apparel & access of unhard vulcanized rubber
4016 articles nesoi of unharded vulcanized rubber
4017 hard rubber in all forms: articles of hard rubber